406MHz Emergency Distress Beacons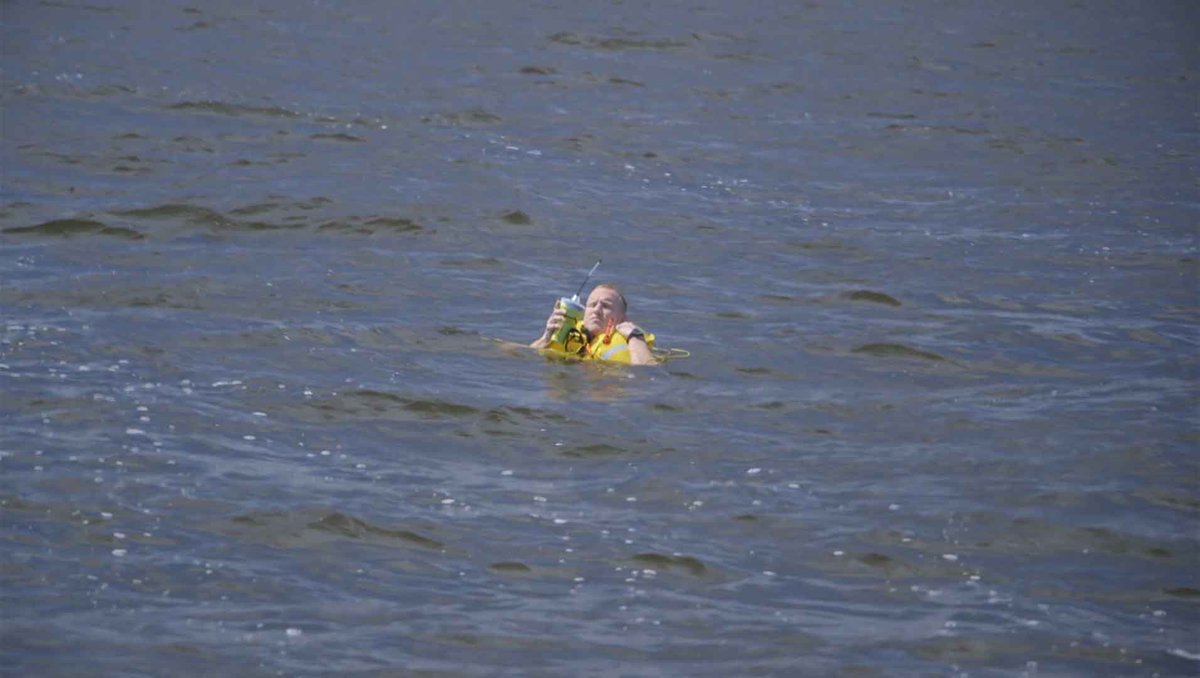 Photo courtesy Cospas-Sarsat
Carrying and activating a 406 beacon is sometimes the only hope for survival.
No one expects to have an accident, get lost or experience some other distress situation when they set sail, fly or head into the wilderness for adventure. But it does happen. Mobile phones do not always work in the remote areas. Multi-tasking navigation assistance devices require charging. A
406 MHz distress beacon
is your best bet. It only has one function – to alert Search and rescue (
SAR
) authorities directly within minutes of activation that you are in trouble and need help.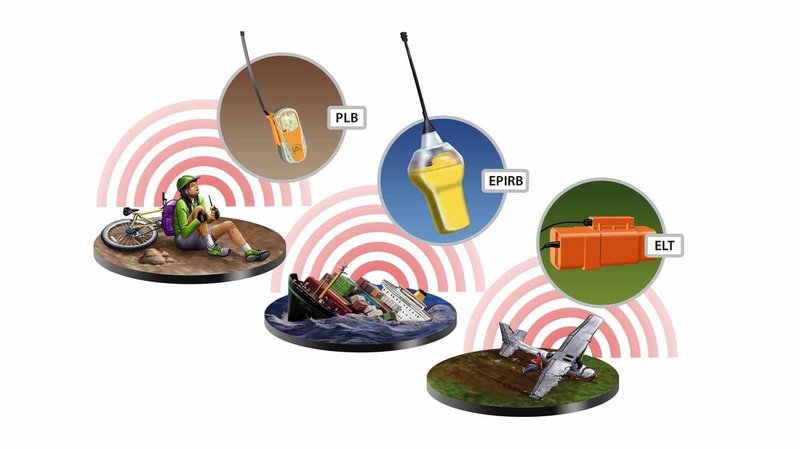 Illustration courtesy Cospas-Sarsat
The three main types of 406 distress beacons and the kinds of situations each are designed for…Wilderness use, Marine and Aviation.
There are three types of 406 emergency beacons used to transmit distress signals, EPIRBs (for maritime use), ELTs (for aviation use), and PLBs (handheld personal, portable units for remote-environment use). 406 MHz Emergency beacons are digitally coded and transmit distress signals immediately upon activation. 406 refers to the proprietary radio wavelength these beacons transmit on. This means that even a brief inadvertent signal can generate a false alert. To avoid getting a call from the Coast Guard or Air Force, make sure that, when you test your 406 beacon, you follow the manufacturer's recommendations carefully. Or follow these guidelines for general instructions on proper inspection and testing procedures.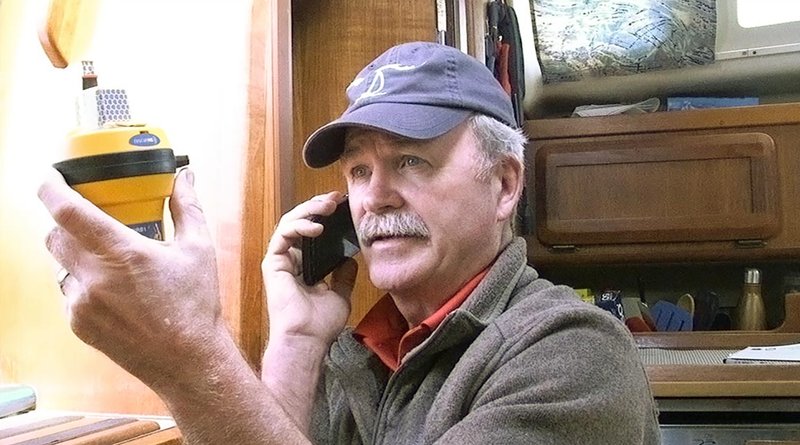 Image courtesy of Cospas-Sarsat
With the information provided upon beacon registration it is easy for SAR authorities to contact you to determine if the distress is a real emergency before they initiate a search.
If it is not registered and a SAR team is called out to respond to what turns out to be a false alert, it may not be quite so friendly. More importantly, registration will help rescue forces find you faster in an emergency because they know who and what they are looking for. Activating a 406 beacon in a non-distress situation needlessly diverts SAR resources that may be needed in an actual emergency. The information provides a quick and easy way for the SAR agencies to check and eliminate false alarms.  If you need to register a 406 MHz beacon, you can register online, or you may download a beacon registration form here and then fax the form to us at: (301) 817-4565. For any other registration questions, please call us at: 1-888-212-SAVE (7283).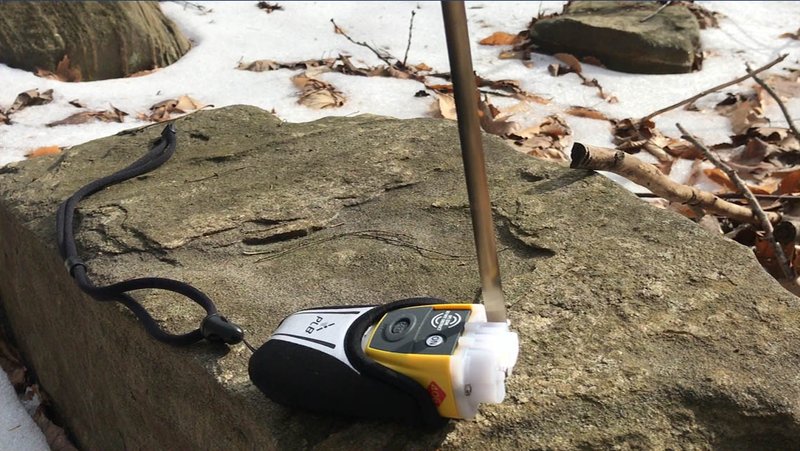 Image courtesy of Cospas-Sarsat
With the information provided upon beacon registration it is easy for SAR authorities to contact you to determine if the distress is a real emergency before they initiate a search.
Personal Locator Beacons (PLBs)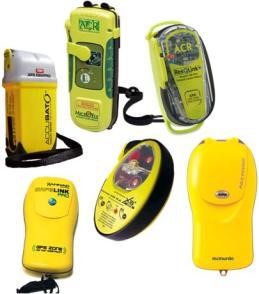 406 PLB beacons are portable units designed to be carried by an individual person. Most PLBs are as small as a cell phone. Because of their compact size, PLBs are ideal for wilderness hikers, cross country or mountain bikers, kayakers, canoeists, mountaineers, backcountry skiers and snowmobilers – generally, anyone travelling in remote wilderness areas any time of year.
They can only be activated manually and operate exclusively on 406 MHz. Some PLBs have GNSS chips integrated into the distress signal. This GPS-encoded position dramatically improves the location accuracy down to the 100-meter level…that's roughly the size of a football field! Operational battery life once activated is 24 hours minimum.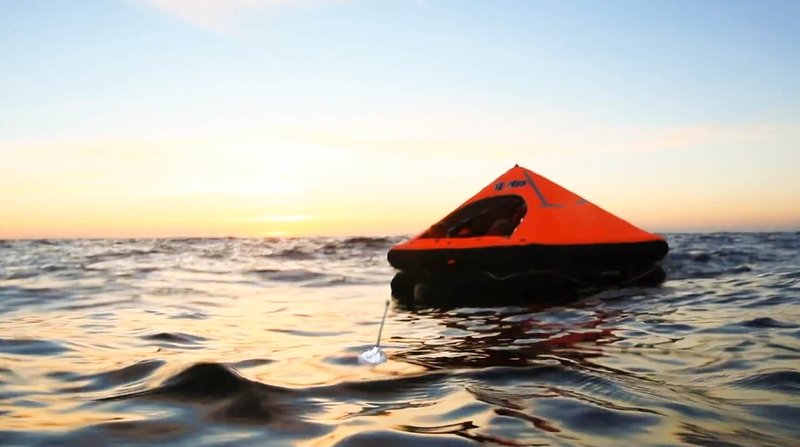 Image courtesy of Cospas-Sarsat
EPIRBs like the Category II shown above, are designed to float freely while tethered to the life raft. The battery life in immersion conditions is 48 hours or more.
Emergency Position Indicating Radio Beacon (EPIRB)
EPIRBS are designed for maritime applications. The 406 MHz EPIRBs are divided into two categories. Category I EPIRBs are activated either manually or automatically. The automatic activation is triggered when the EPIRB is released from its bracket.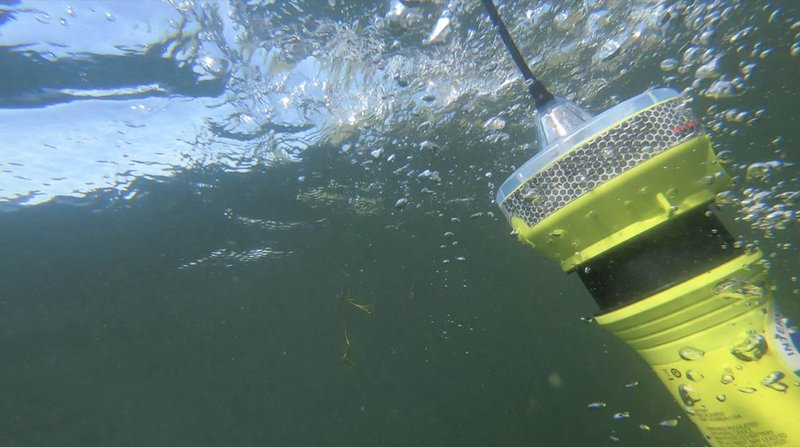 Image courtesy of Cospas-Sarsat
Category I EPIRBs are housed in a special bracket with a hydrostatic release. When a boat sinks below a water depth of 3-10 feet, the EPIIRB is ejected, floats to the surface, and begins transmitting.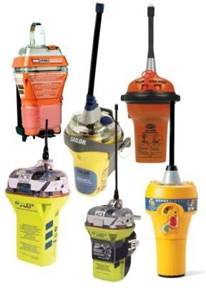 If you own a Category I EPIRB, it's very important that you mount it outside your vessel's cabin where it will be able to "float free" of the sinking vessel.
Category II EPIRBs are manual activation only units. If you own one of these, it should be stored in the most accessible location on board where it can be quickly accessed in an emergency. Both types include a built-in strobe light and are designed to float.
EPIRBs transmit for at least 48 hours once activated. The U.S. Coast Guard has an outstanding website with even more information on EPIRBs. Click here to view the Coast Guard EPIRB Homepage.
Image courtesy of Cospas-Sarsat
406 MHz is the only frequency satellites can pick up in the event of a distress activation. Satellites have not had the ability to detect 121.5 MHz signals since 2009.
Emergency Locator Transmitters (ELTs)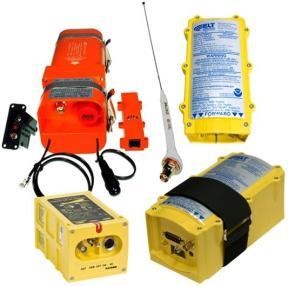 406 MHz beacons designed for use in an aircraft are known as an Emergency Locator Transmitter (ELT). ELTs can be manually activated by the pilot using a switch on the instrument panel or automatically activated by a G-switch. A G-switch is a mechanism inside the beacon that activates automatically when it detects excessive G-forces experienced during a crash. ELTs transmit the distress signal for at least 24 hours.
As with EPIRBS and PLBs, some 406 MHz ELTs may also include a GNSS signal within the distress alert. This position may be a one-time input from the aircrafts navigation system or may be periodically updated from a GPS processor internal to the ELT. The one-time position input may not represent the most accurate position of the ELT since the position may have changed after the one-time position was last inserted into the message. However, it does give an early indication of the general area of the distress which is very helpful to SAR personnel.
Unique Identification Number
Each 406 beacon has a unique 15-character HEX ID located on the box it was packaged in and also on the beacon itself. Upon registration this HEX ID becomes the unique identifier that lets SAR rescuers know who and what they are looking for BUT ONLY IF the beacon is activated. It is encoded in the message your beacon transmits.
Internationally Regulated Technology
The design and function of 406 beacons is strictly regulated by international convention under the authority of Cospas-Sarsat. For example… All 406 beacons must be capable of transmitting a signal that can reach a satellite over 22,000 miles into space.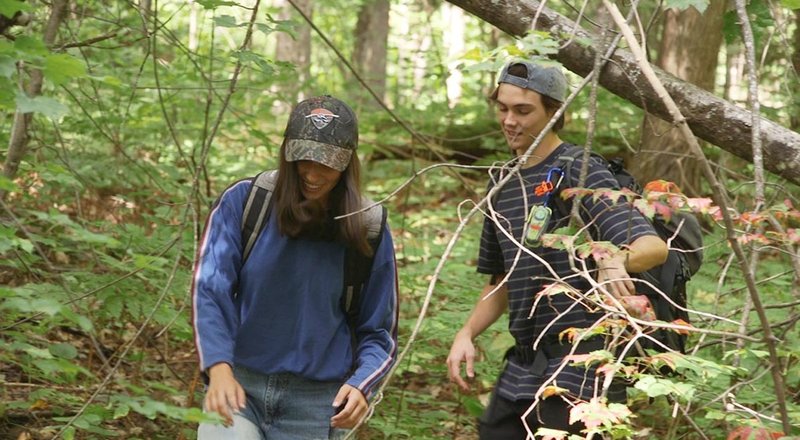 Image courtesy Cospas-Sarsat
These beacons are designed to withstand the rigors of whatever environment they must function in.
All beacons must be built solidly enough to resist impact damage. All beacons must be powerful enough to send out a distress signal regardless of cloud cover or extreme weather conditions. All 406 beacons must have batteries durable enough to retain full charge for a minimum of 5 years if not used or over tested. Some models include Global Navigation Satellite System (GNSS) chips. They are sometimes referred to in consumer terms as GPS. This gives Rescue Coordination Centers (RCCs) a second reference for location which is always valuable for getting a search off to a quick start.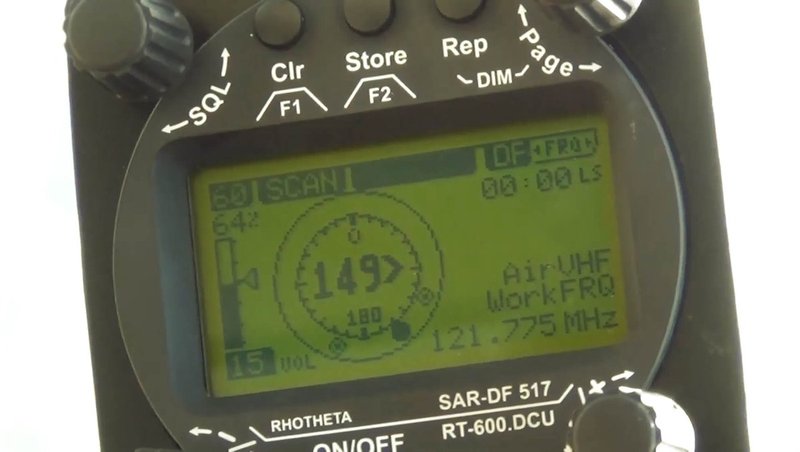 Image courtesy of Cospas-Sarsat
All 406 beacons also have a built-in, low-power, continuous, analogue signal that allow rescue forces to home in on the distress beacon once they get close to the location coordinates provided by the Cospas-Sarsat satellite system.
New 121.5 MHz ELTs – banned from U.S. Market
Antiquated 121.5 MHz ELTs are still found on some private aircraft. This is legal. However, Cospas-Sarsat Satellites are not equipped to detect a 121.5 MHz ELT signal. So, users must rely on an overflying aircraft that is within range of the crash site and listening to 121.5 MHz to receive the 121.5 signal. In addition, as of 2019, the manufacture, importation, or sale of 121.5 MHz ELTs became prohibited in the United States per a Federal Communications Commission (FCC) final rule, but the new rule does not prohibit aircraft operators from continuing to use 121.5-MHz ELTs now installed in aircraft, nor does it cut off the availability of batteries or other replacement parts.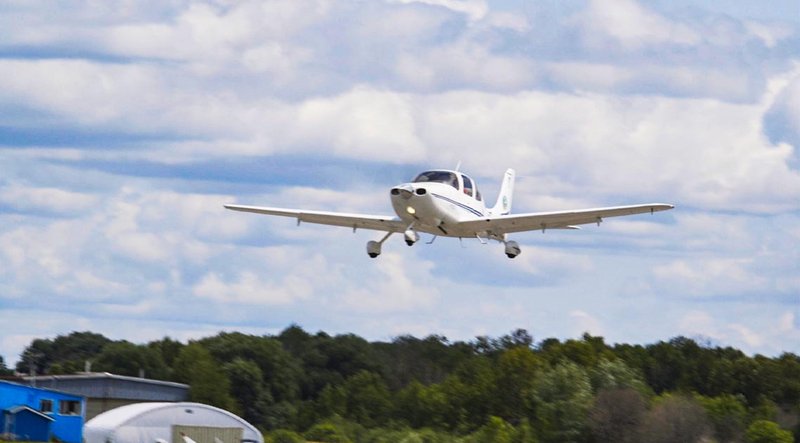 Image courtesy of Cospas-Sarsat
406 MHz ELTs dramatically reduce the false alert impact on SAR resources, have a higher accident survivability success rate, and decreases the time to reach accident victims by an average of 6 hours.
An RLS-enabled beacon is a beacon that has the Return Link Service feature.  The Return Link Service feature is an indication (e.g., a light or text display) on the beacon that confirms to the user that the distress signal from the beacon has been received and localized by the Cospas-Sarsat system and forwarded to government authorities for action.  It does NOT mean that a rescue has yet been organized/launched, only that the distress alert has been received and routed to the appropriate government agencies.   For further information about how the Return Link Service feature works, and performance expectations, you should watch the Cospas-Sarsat video on RLS and read the related sections of the SAR/Galileo Service Definition Document. As of 1 June 2022, RLS equipped EBIRBs and PLBs, coded with USA County Codes, are legal for sale and use in the United States.  As with any 406 MHz Distress Beacon registration is required and is free of charge.
The Federal Aviation Administration (FAA) has studied the issue of mandating carriage of 406 MHz ELTs. The study indicates that 134 extra lives and millions of dollars in SAR resources could be saved per year. No one can argue the importance of 406 MHz ELTs and the significant advantages they hold. All pilots are highly encouraged both by NOAA and by the FAA to consider making the switch to 406!
Without registration, the RCCs are unable to react as quickly…and ultimately this may delay a SAR response should you be in an emergency. If you have a 406 MHz beacon and have not registered it, please do so by clicking here to access the National 406 MHz Registration Database. It's the law and it may save your life!